When it comes to real estate in Downtown Chicago, there are no shortage of diverse options available. From chic high-rise condos to historic brownstones, the city's varied architecture offers a unique mix of old and new. But how can one make an informed decision when looking at such an expansive market? This guide provides key tips for navigating through this dynamic world by providing insight on trends and more!
Short Summary
Discover the diverse and dynamic real estate options in Downtown Chicago, ranging from luxurious mansions to budget-friendly rentals.
Navigate the competitive market with a knowledgeable team of agents and explore financing options for your ideal property.
The future outlook is expected to be volatile but remain successful overall, driven by luxury condo buildings and mixed use developments.
Discover Downtown Chicago Real Estate
Chicago's downtown real estate sector encompasses an array of architectures and housing types, a fitting reflection to the multifaceted population of the city. Among them are striking River North lofts as well as extravagant Gold Coast mansions, leaving something for everyone whatever their needs or budget may be. If you're on the move to Chicago, there is plentiful information about rentals available which makes discovering your perfect abode in this bustling mecca easier than ever before!
Types of Properties
Chicago's downtown area offers a great variety of real estate options, including homes from 3,000 to 7,000 square feet that feature both contemporary and historic design elements. The labor market transition in the city has created an influx of renters – currently more than 50% opt for renting instead of buying dwellings – due to financial insecurity as well as availability of luxurious apartment rentals in some highly sought-after parts of Chicago.
Price Range
Downtown Chicago offers a diverse range of options for housing, able to accommodate any budget. Rent prices in the area have risen by 2.1% during the past year with studio apartments costing an average of $2,072 and two-bedroom units going up to about $2,608 each month. Three bedroom houses come at around $5,171 on average as well. All these numbers will vary depending on where you're looking to live within this city! The Gold Coast district is considered more luxurious when it comes down to rental values, properties there start from over one million dollars per house or residence available in that zone. Whatever your preferences may be regarding real estate matters here in Chicago, people are sure they can find what suits them best!
Neighborhoods to Watch
The heart of Chicago is home to several exclusive areas, all with their own unique character and appeal. Notable neighborhoods like Streeterville, River North, Gold Coast, The Loop and South Loop are highly sought after by both residents and investors alike.
Offering a variety of real estate options from chic apartments to opulent single-family homes, there truly is something for everyone in downtown Chicago's property market. These coveted communities are some of the most desirable places for homeownership within this city.
Streeterville
The real estate market in Streeterville, located to the east of Chicago's Magnificent Mile and north of its River, has slightly slowed down over the past year, with median home prices decreasing by 1.6%. Despite this trend, properties are still listed at an impressive $455,000 on average.
For anyone hoping to purchase a residence here close to well-known attractions like Navy Pier or Museum of Contemporary Art Chicago, they can find what they need online through listings agents and brokers who provide up-to-date information about available homes within this area.
River North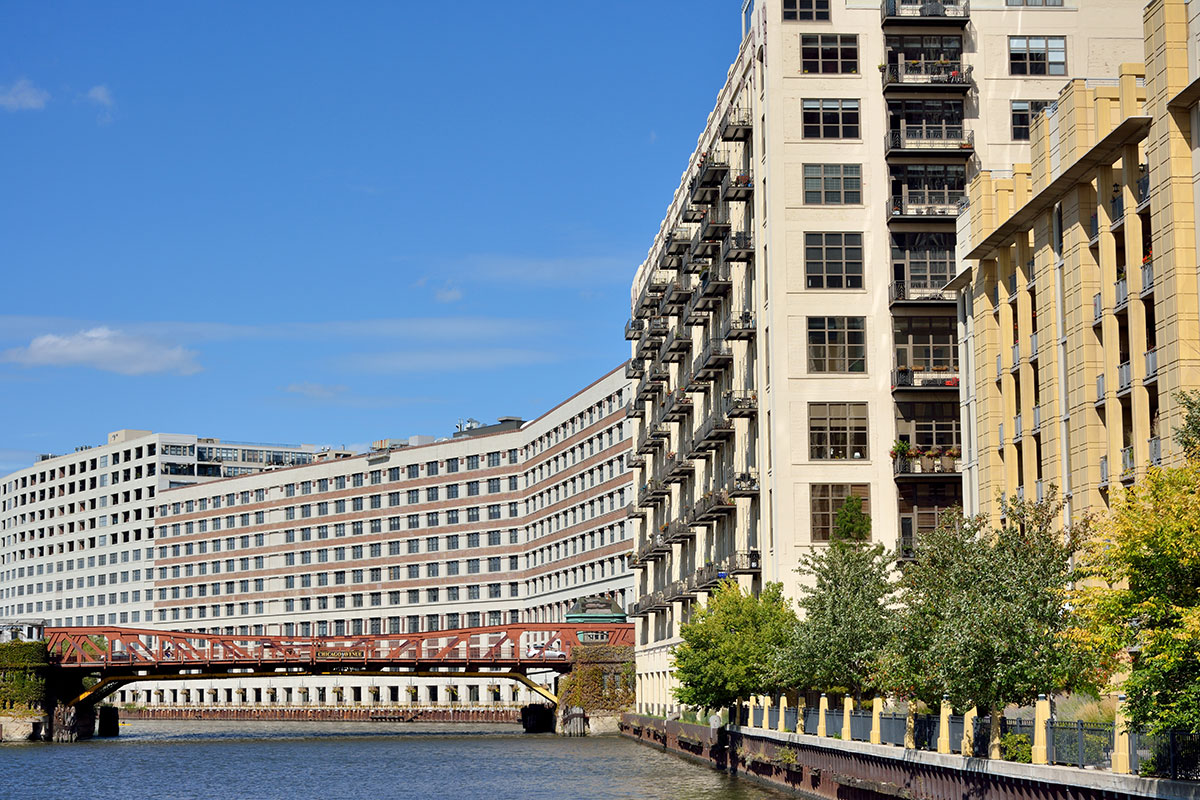 River North is renowned for its high-end stores, upscale restaurants, art galleries and beautiful condos. This trendy neighborhood draws people looking for an exciting downtown lifestyle.
The real estate in the area reflects this popularity – many properties carry a hefty price tag. For instance, last April Crain's reported that Grand Boulevard, Kenwood and Lincoln Square were among the most sought after areas to buy condominiums or townhomes from.
High end shopping boutiques make River North attractive while housing options provide numerous luxury living opportunities, making it perfect if you are seeking out lavish city life experience!
Gold Coast
Located in the heart of downtown Chicago, the Gold Coast area is known for its luxury residences and opulent amenities. Home to several high-rises along Lake Michigan's shoreline as well as stylish brownstones and townhomes, this neighborhood provides a plethora of upscale living options that promise to remain highly sought after through 2023. As one might expect from such an exclusive part of city life, The Gold Coast offers unparalleled shopping opportunities complemented by first rate dining establishments sure to please even the most discriminating palates.
The Loop
The Loop, Chicago's primary business and financial centre, is an appealing place to live. In April 2023, the median list price for a home was $490,000 – up 16% from one year prior. Properties in this area range drastically. From high-end condos at over two million dollars to more affordable single family homes starting around 200k. With its vibrant culture and proximity to downtown Chicago, The Loop real estate market looks set to remain profitable with prices likely continuing on their upward trajectory in years ahead.
South Loop
Located in the heart of Downtown Chicago, South Loop has become an increasingly attractive real estate market. Data from April 2023 show that the median home price here is $340,000 which represents a drop of 5.3% when compared to last year's numbers. Despite this decline, it remains a very desirable neighborhood for potential buyers and residents alike due to its wide selection of properties and prime location within Chicago itself.
Analyses conducted by Crain's magazine showed that Calumet Heights, Gage Park and West Ridge were particularly sought-after areas where detached single family homes are concerned during their report last Springtime. Consequently, those searching for property centrally located close to downtown should take into consideration investing in the South Loop as they consider all options available on the housing market today.
Navigating the Downtown Chicago Real Estate Market
Navigating the hustle and bustle of Chicago's competitive real estate market can be tricky. But by using a reliable team of experienced agents to guide you through it, understanding both renting and buying options available in Downtown Chicago, as well as taking advantage of different financing opportunities presented – you will have all the resources necessary for making sound decisions that suit your requirements.
When searching for property in this exciting city, here are some useful tips which will help ensure success on your journey: Leverage professional advice from knowledgeable experts. Analyze each rental/buying option carefully. Take into consideration various financial strategies so that you find just what you're looking for!
Working with a Realtor
By partnering with a real estate agent, one can enjoy numerous benefits such as gaining access to the MLS (Multiple Listing Service), expediting the transaction process and enhancing knowledge of market trends. The exclusive database used by brokers offers them an easy way to locate properties that suit their clients' requirements while allowing for quick comparisons in regards to prices and features.
Realtors provide invaluable advice regarding local markets like current tendencies, cost information, availability plus strategies on how best to buy or sell property so customers make sound decisions with confidence.
Renting vs. Buying
When choosing whether to rent or own a property, particularly in downtown Chicago's real estate landscape, it is important to take your individual needs into account. When renting, you have the benefit of having predictable monthly expenses and repairs taken care of by the landlord, but may sacrifice some stability that comes with owning. On the other hand, when looking at purchasing a home, one can experience both an intangible feeling such as pride plus tangible advantages like tax breaks and equity growth potential.
Ultimately, deciding what path to take requires thoughtful consideration tailored specifically for this particular city's market based on each person's unique situation and preferences.
Financing Options
Purchasing a house in Downtown Chicago can be realized through multiple methods, such as standard mortgage loans, private lender-funded loans, home equity funds and federal aid programs.
Standard mortgages are provided by the property itself with at least 20% of the acquisition cost needed up front and fixed interest rates applicable to them. Private financing requires 25% from buyers for down payment along with variable interest on loan amounts. Home equity involves obtaining money based on existing assets within your dwelling. Only 10% should be deposited initially plus charges come at set rate of interest. Lastly, government backed schemes offer funding initiatives which require around 3.5 % upfront capital together with secure yearly returns ensuring security whilst purchasing a new abode in Chicago.
Downtown Chicago Real Estate Trends and Forecast
Analysis of recent market data points to a decrease in home sales and median prices for Downtown Chicago. Experts anticipate that this trend is likely to reverse shortly with an expected 1.7% growth rate throughout the greater Chicago-Naperville-Elgin area when it comes to housing values.
Investors who buy or sell homes in Chicago can still count on potentially lucrative prospects despite previous difficulties faced by the market recently.
Market Performance
Real estate in downtown Chicago has become highly competitive with the median home sale price reaching two million dollars in 2012. Consequently, buyers need to act quickly and smartly as bidding wars over properties are now common due to multiple offers being placed on one house. This competition is causing homes to be sold nearly at their listed prices according to a 0.989 sale-to-list ratio. Thus highlighting how strong the housing demand really is within this city of Chicago.
Future Outlook
In 2023, downtown Chicago's real estate is expected to decline due to a decrease in demand and higher interest rates. Despite the challenges faced by this market compared to the previous year, it is still projected to be one of America's most prosperous housing markets. The sales forecast for the upcoming three months indicates fluctuations. Some monthly increases may signal potential growth within the sector despite yearly drops overall.
Top Downtown Chicago Real Estate Developments
Newest Downtown Chicago Real Estate for Sale
Chicago's downtown is undergoing a major revival with new and improved real estate projects such as Wolf Point, Magellan Development Group, St. Regis Chicago and One Bennett to name just a few of the grand developments in progress. These additions are bringing fresh life to the city's skyline by providing exciting opportunities for current residents or potential investors alike. With an 11-strong line up currently underway, this has sparked something special within Downtown Chicago's property market that will no doubt have far reaching effects throughout its landscape going forward.
Luxury Condo Buildings
For the most indulgent lifestyle in Downtown Chicago, residents can look to some of its finest luxury condo buildings. These majestic properties offer a collection of exceptional amenities and unrivaled city views including St Regis Chicago, One Bennett Park Tower, 9 Walton Street 1500 N Lake Shore Drive, Palmolive Building, 30 West Oak Astor-Banks Condos Residences at 900 Tribune Tower Residences – all within the confines of downtown Chicago's skyline.
Designed for those seeking an exceptionally luxurious home setting in one of America's iconic cities. These premium residences provide exquisite experiences that leave no need unattended to.
Mixed-Use Developments
The attraction to invest in real estate that combines both residential and commercial use is increasing greatly within Downtown Chicago. Examples of such mixed-use developments range from the large scale Lakeshore East, The 78, to smaller boutique properties found on platforms like CityFeet and Crexi.
Taking part in investing towards these downtown buildings presents major advantages for all sorts of investors due to their potential return income flow, appreciation capacity, as well as diversification benefits it brings with it.
Summary
Navigating Downtown Chicago's real estate market can be a thrilling experience. By understanding the trends, staying up-to-date with new developments and leveraging professional help, buyers are able to find a unique property that meets their needs in this bustling city. So don't hesitate, take advantage of all downtown Chicago has to offer and start your journey today!
Frequently Asked Questions
Are Chicago real estate prices dropping?
Overall, Chicago real estate prices have dropped significantly in the past year, with houses falling 8.7 percent and median prices for the metro area declining 1.7 percent.
Townhomes and condos remain more expensive, having increased slightly.
Is it worth buying property in Chicago?
Given the strong demand for rental housing and growing home values in Chicago, investing in property is an attractive proposition with potential for considerable return on investment. For many, it presents a wonderful opportunity to reap rewards over time.
Why is Chicago real estate so reasonable?
The large selection of properties on the market in Chicago, combined with a lack of restrictive regulations that other major cities have concerning new construction, has made it easy for buyers and renters to find great deals when looking at real estate. This helps keep prices low throughout the city.
Is Chicago real estate going up?
The Chicago real estate market is showing positive signs, with the University of Illinois-Chicago expecting median prices to exceed $341,000 by June. It appears there could be fewer sales over the course of 2023 than last year when home values decreased slightly.
Overall, evidence suggests that trends for real estate in Chicago are going up and should remain favorable despite any potential dips along the way.
Are Chicago home prices dropping?
Data collected in the Chicago area show that, over a year from January 2023 to 2022, median home prices have decreased by 1.7%. This follows similar downward trends occurring all around the nation. Consequently, current housing costs throughout Chicago are much lower than they were before this trend started.