This is not real estate as usual.
You need a divorce real estate specialist on your team.
Leslie is an expert on advising divorcing homeowners on all things real estate related. Especially if you are planning on staying in the house!
The decisions you make impact your future.
Leslie advises clients through the entire real estate process by educating and providing options regarding the home.
Are you feeling overwhelmed about:
Do I need to sell my home?
How do I manage a home on my own?
Where will I live next?
Can I afford to stay in my home?
In the emotional climate of divorce every decision can feel overwhelming.
It's never too early to discuss your real estate options. Start now.
Your home - and your future - deserve an expert.
Leslie is a real estate advisor.
She becomes an agent when there is an offer on the home.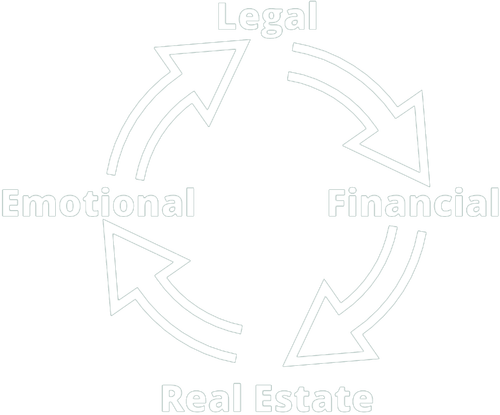 There are a lot of moving parts surrounding divorce and the home. It's best to have a team of professionals on your side
The plan
Our Step-by-Step Plan
Learn to navigate the complexities surrounding the family home.
1. Schedule your Strategy Call.
Let's chat and get a plan in place starting with the resources you need to move forward. I'll help guide you through your options, so you make the best decisions each step of the way:
Learn the 3 options regarding dividing the home
How to get a home valuation
Do I need to do work on my home?
What's next? Get a timeline
2. Get a Clear Plan for Your Home
Buy, Sell, Rent or Stay, we will walk with you through the entire real estate process
Schedule a walk-through of the property
Listing appt. with each person.
Provide pricing and improvement recommendations.
Monitor the progress of improvements.
Prep, stage and shoot the home.
List property for sale.
3. Embrace Life's New Possibilities.
With the family home handled, you can look to the next chapter, and move forward with confidence.
Pack the house.
Complete negotiations and closing.
Close on your new place.
Move into your new place.
When it comes to the home, we will streamline the process so you can move with certainty into the next chapter of life.
How is this different from a general Broker?
Advisor, Compassionate, Neutral, Supportive, Consultant
This is not real estate as usual. Let me help.
As a highly experienced real estate broker and neutral advisor who specializes in divorce real estate matters, I know how important it is to feel in control of your life despite the uncertainty that comes with divorce. It's best to transition wisely and confidently, understanding your options regarding the house and moving onto the next chapter of your life.
The challenge in navigating real estate during a divorce can be complicated and emotional, which may make you feel overwhelmed and alone. General real estate agents will take a general real estate approach, leaving you vulnerable to potential costly mistakes during the process. You need an expert.
I believe every divorcing homeowner deserves to be heard, represented, and empowered to move forward into their new normal.
As a Certified Divorce Real Estate Expert CDRE™, I've helped hundreds of divorcing homeowners navigate the complexities of divorce real estate.
I'll guide you through each step of the process - and avoid the hidden costs and pitfalls - so you can make the most informed decisions.
Together, we'll help you transition into life's next chapter, feeling empowered to move forward with confidence.
With over 20 years of real estate experience, Leslie is one of the Chicago area's most accomplished real estate brokers and is consistently recognized as a top 1% luxury broker. Leslie's extensive training and experience in life transitions provide her clients with a clear vision of what to expect moving forward into their next chapter.
Let's do this, together.
Advocate - Advisor - Quarterback - Consultant - Neutral Expert
You got this, you are in the right place!
Certified Divorce Real Estate Expert, CDRE™
Top 1% broker in Chicago area
Over $180 million in real estate transactions
20+ years in Real Estate
Affiliate with Collaborative Divorce Illinois (CDI)
Affiliate with The Chicago Bar Association (CBA)
Founding member of Amicable Divorce Network (ADN)
Member of National Association of Divorce Professionals (NADP)
"The sale of the house in Chicago is done, and after almost 20 years of 'battle', my 'husband' (the man I chose to get married to) expressed his appreciation today for a transaction that he is 'comfortable/happy' with. Even though I invested my most precious years into getting this burden off my che
…
Read More
st, the appreciation goes to you, Leslie from your network who caused the transaction to go through and be final. Thank you."
Read Less
"Leslie is fantastic. She navigated a 'challenging' situation for a shared client - we could not have been happier with Leslie's representation and advocacy! Could not recommend more!"
"I am so grateful for all of the support I received from Leslie during my home selling process. Leslie's calm and supportive presence made it much easier for me to survive the many delays that were out of my control. I am so grateful for your professional recommendations, support and especially her u
…
Read More
nderstanding and acknowledgment of my time and energy that was involved with my facilitating all of the repairs, cleaning, packing, purging, etc. Selling a home during divorce is emotionally difficult but having a specialist in divorce real estate made the process much easier. I highly recommend Leslie and her team!!!"
Read Less
"My experience with Leslie and Ali was absolutely outstanding! They truly served as a calm in the middle of a storm. Leslie understands the stress that comes along with the divorce/home selling process as she has lived it, and helps both parties navigate the entire journey. The minute they walked thr
…
Read More
ough the door, Leslie and Ali provided guidance in terms of preparing the home for sale. The light Leslie and Ali brought helped guide me through a dark and difficult moment In my life. I recommend them to any couple going through a divorce."
Read Less
"As a family law attorney, I see so many clients go through the emotional toll when selling the family home. Recently Leslie assisted my client with the sale of the marital home against the backdrop of a highly charged pending divorce matter. Leslie approached the transaction with grace, respect, and
…
Read More
most of all kindness to her clients. She provided stellar and compassionate service, while maintaining trust and efficiency for all involved. Leslie was instrumental in helping my client move forward both financially and emotionally. I highly recommend her!"
Read Less
As your advisor and main point of contact, Leslie will help build the right team of professionals for you in your area.
Certified Divorce Real Estate Experts, Lending Professionals and Financial Planners Attorneys, Therapists, Accountants, etc.