There's absolutely nothing better than walking into your home from the cold and being transported into a cozy winter paradise. Whether you're in chilly snow-filled Chicago or sunny(ish) California, you're probably feeling the pull already to make the inside of your home as inviting as possible. I have the perfect winter interior decor inspiration for you. 
Whether you're staging your home for potential buyers, or just wanting to get in the holiday spirit yourself, I've got you covered. Read on to find out the biggest Winter 2021 Interior Design trends and how you can incorporate them into your home.
Seasonal Color Palette
First up, colors, colors, colors!
The color palette you use within your home alters the overall feel and warmth of your space. At the end of the day, the person who will spend the most time in your home is you, so choose with this in mind, but don't be afraid to go outside of your comfort zone. I have a few color palettes I recommend you consider this winter.
Channel your inner Jack Frost with a frosty blue palette. Use a variety of shades of light blue along with some accent colors of white. Feel free to add in another warmer color, but only as a small accent to add some warm tones to the room. If you're located in a place that isn't very cold during the winter, this is a great option as it will give any room an arctic tundra feel.
Looking for a palette that will match some smooth hot chocolate? Then, creamy neutral tones are perfect for you. As accents, add in some greys and browns to bring out some texture. This palette is perfect if you're in a colder location like Chicago and want to add some warmth to your home.
Keep it simple. Use a variety of tan tones mixed with some wooden browns and your home will not only give off cozy feels but a richness as well. With these tones, it is easy to throw in an elegant white throw to have something pop in the room. This palette is perfect for any location as it emits an overall sense of home.
Bring the outside in! Trying to remember what the ground looked like when there wasn't any snow? Then this is perfect for you. Use a variety of colors of wood to create an overall rustic feel. These tones in addition to a fireplace will create a warmth that helps you forget how cold it is outside, perfect for winter.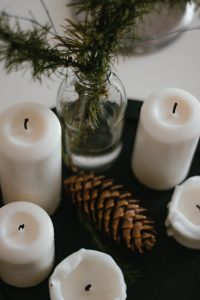 Add Pops of Color
Now that we have the basic color pallets down, let's talk about adding some accent colors!
Adding pops of color can take a decorated room to the next level. Not only will it bring a cozy and warm feel to a home, but it will draw the attention of guests and make a home more inviting.
Some colors that pop can pretty much be any vibrant color that will stand out against your main color palette. However, the colors that will work best during this winter are red, maroon, metallics, purple, bright blue, and even black!
The best part about adding pops of color is that you can put in as much effort and money as you choose. You can easily work with the items already found in your home, or you can go out and buy some objects with the colors mentioned before.
Some recommendations of objects include abstract paintings, a vase with flowers, throw pillows and blankets, ornaments, area rugs, candles and candle holders, and table centerpieces. The key with this is it doesn't necessarily matter what object you use, it just has to have a pop of color that coincides well with the rest of the color palette.
Lastly, it's best to have several different objects with the same accent color choice. This will give the house a cohesive look, so make sure you strategize!
You can definitely overdo and underdo it as well, so don't forget to take a step back and analyze each room as a whole every now and then during the decoration process. There's a fine line that only your eye will be able to tell.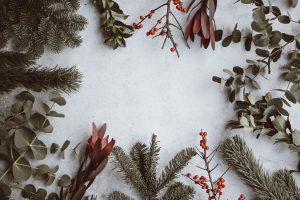 Incorporate Soft Textures
My favorite way, and a timeless trend for winter, is to add a sense of warmth and overall coziness is by incorporating soft textures. Winter is the perfect time to use some of those textures you might not consider incorporating during any other time of year.
Use velvet, chenille, and faux fur to spice up your throw pillow, blanket, and rug game. Not only will interacting with them give you a warm and fuzzy feeling, but they will definitely warm up the overall atmosphere of your house.
Speaking from a solely interior design perspective, this is also a great chance to show off your expertise. Knowing which fabrics and textures work well with each other while matching your color palette will give your guests or potential home buyers the best possible experience in your home. 
The Extra Details
Want to really add to the warm ambiance this winter?
Make the most of the small details. Candles are a great way to do this. You can choose from a variety of smells, shapes, sizes, styles, and colors. You may not think they have as large an impact, but they most certainly do!
Another great idea is to add simple twinkle lights and change out some of your day-to-day bulbs. Adding a single backdrop of ceiling-to-floor fairy lights or changing out your lightbulbs for a warmer hue will make all the difference.
White bulbs are sometimes too harsh during the winter and can take away from the warm ambiance. Instead, let the outdoor light shine brightest this winter season!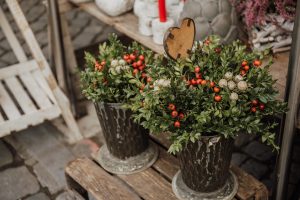 Don't Avoid The Bathroom!
Too often overlooked when it comes to interior decorating are bathrooms. Having a consistent feel among your entire home is a must this winter season.
This area of your home is where detail counts the most. With limited space, you won't be making major adjustments, but the small details matter. 
Some ideas to decorate your bathroom are changing the shower curtain to fit your overall color palette, getting a soap dispenser to match the winter theme, adding a winter scent dispenser, hanging garland around the mirror, adjusting light bulbs to have a dimmer vibrancy to create warmth, and the list can go on and on.
Making these simple changes and decorating your bathroom will inspire you to give your guests an entire house tour, instead of just shutting the door and hoping nobody notices. Go big or go home, right?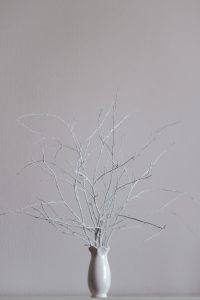 Conclusion
Whether you are staging your property to be sold or you want to spice up your own home, these tips will surely have your guests walking through the door with the best possible impression.
And who knows, your interior design skills could even inspire some of them to make changes to their home!
If you're interested in more staging tips or looking to stage your home to sell soon, you can download my free staging guide here. I include tips and tricks beyond decor and provide you with concrete steps to have the biggest impact on your staging. 
Now that you're all set to have the coziest winter season, what're you waiting for? Get stagin'!