The Midwest is known for its diverse landscapes, and the fall season is the perfect time to experience its beauty. Here are three luxury weekend getaways in the Midwest where you can enjoy the outdoors and relax in style.
Wisconsin: Hiking the Ice Age Trail and Exploring Milwaukee
Wisconsin's Ice Age National Scenic Trail spans over 1,000 miles and offers scenic views of water-filled kettles, rolling moraines, and other unique geological formations. The Ice Age Trail Alliance provides numerous day hikes across the state, making it accessible from Milwaukee to Madison and even near the Minnesota border. One of the accessible segments is the 3.1-mile Monches trail in Hartland, just west of Milwaukee. This peaceful wooded trail runs alongside the Oconomowoc River, offering a beautiful display of fall foliage.
For some added luxury, stay in downtown Milwaukee at The Pfister Hotel, a four-star establishment with a touch of the Gilded Age. Explore their extensive Victorian art collection, which is the largest in any hotel in the world. Enjoy panoramic views from the 23rd-floor cocktail lounge, Blu, and treat yourself to a Rhassoul Mud body treatment at the spa.
Dining options include the James Beard award-nominated Lupi & Iris, which offers a prix fixe menu with seasonal ingredients inspired by the French and Italian Riviera. You can also explore boutiques and art galleries in the Historic Third Ward or check out Lakefront Brewery for a taste of Oktoberfest.

Indiana: Covered Bridges and Indianapolis
Parke County, Indiana boasts 31 historic covered bridges, making it the area with the most of these charming structures in the world. Each October, the Covered Bridge Festival offers a 10-day celebration that spans ten small towns in the county. These covered bridges were affectionately known as "kissing bridges" during the 1800s for their romantic seclusion.
For a luxurious stay, choose the JW Marriott in Indianapolis, conveniently located near White River State Park. Explore the Eiteljorg Museum, indulge in a four-course tasting menu at Vida, or savor Latin-inspired cuisine at the Livery. You can also enjoy German-inspired Oktoberfest celebrations at The Rathskeller or grab a cocktail at 1933 Lounge by St. Elmo.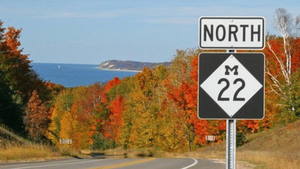 Michigan: The Scenic M-22 Fall Color Route
Highway M-22 follows the picturesque shores of Lake Michigan, running from Manistee to Traverse City in Michigan's Lower Peninsula. This 116-mile route takes you through vineyards, orchards, and charming small towns. Highlights include Point Betsie, the Empire Bluff Trail's Scenic Lookout, and the famous Sleeping Bear Dunes National Lakeshore.
Wine enthusiasts can explore the Leelanau Peninsula Wine Trail, which features over 20 wineries in various towns. Consider a VIP Tour through Scenic Wine & Brew Tours for a hassle-free experience.
Don't miss a visit to Leland's historic Fishtown district and indulge in local treats like pretzel bread sandwiches and smoked Lake Michigan whitefish.
For a touch of luxury, dine at The Riverside Inn in Leland or stay at The Inn at Black Star Farms in Suttons Bay. Alternatively, rent a private residence at LeBear Luxury Residential Club in Glen Arbor for a more expansive experience.
original article by @properties blog