Chicago is a vibrant city with so much to offer. As one of the largest cities in the country that boasts a gorgeous city skyline, it's no wonder so many are choosing to make the move to Chicago!
As a top Chicago real estate brokerage, Leslie Glazier Group knows Chicago inside and out. Whether you're just starting your search or you are set on moving to Chicago, we've put together 6 reasons why you should move to this great city!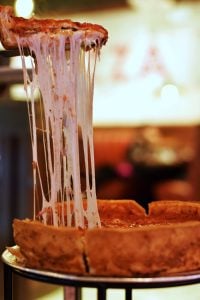 Chicago's food scene:
Chicago is a global city with world-class cuisine. These restaurants range in price, but you can find everything from a slice of famous Chicago-style pizza to one of our many Michelin Star restaurants. The biggest question of all, though: Giodano's or Bartoli's? 
In the summer and running throughout the fall, Chicago also boasts many farmer's markets that will make any foodie's heart happy. Get the freshest ingredients for your meals right in the heart of the city.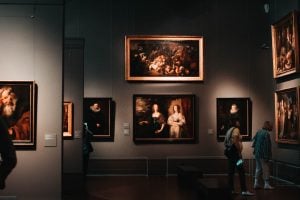 Chicago's art scene:
As rich as the food scene is Chicago's art scene. The city's vibrant art scene offers many high-quality museums, including The Art Institute of Chicago which houses one of the largest permanent collections in the world.
Did you know Chicago's art and design scene is internationally recognized? In Pilsen, you can find many artist-run galleries, forming the Chicago Art District. This neighborhood offers a unique experience for those who prefer to interact personally with the artists themselves. You can expect to walk into a gallery and talk with the person who created the painting you're ogling at!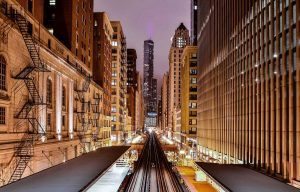 Low cost of living:
The city's (relatively) low cost of living is another reason to move to Chicago. If you're looking for a place with a lot going on but don't want to break the bank, then move here ASAP! It's necessary to specify that it is cheap, relative to other large cities like New York and Los Angeles, but you could still find yourself paying a hefty amount for a new apartment in a trendy neighborhood. 
Neighborhoods like Lincoln Park and Lakeview are great neighborhoods for young families who are starting out and want a city feel but also want to feel the comfort of running into a friend walking down the street. These neighborhoods also offer a more affordable standard of living when compared to downtown.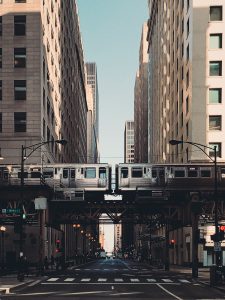 Reliant public transport
Chicago is a very large city, and luckily it also has a reliable public transportation system. Having a car is doable, especially if you don't live downtown, but public transport is always an option to think about taking advantage of when living in the city. 
The train system is pretty fantastic in Chicago as there are multiple lines that run the length of the city. You can hop off at any point along one line and catch another that goes back towards downtown. And, if you want to travel out to the suburbs, there are trains going all the time! Chicago is a very well-connected city and you should never have to worry about getting around.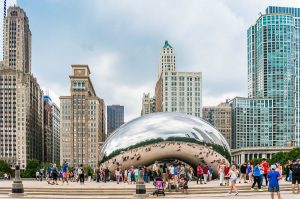 Skyscrapers and architecture 
Chicago has a lot to offer in terms of architecture and skyscrapers that you won't find anywhere else. The buildings are what make the city most unique, from Willis Tower and its new thrilling Skydeck, to our very own bean.
What's the story behind our famous bean, you might be wondering. Also referred to as "cloud gate" or simply "the bean," you can find it at Millenium park which brings together visitors from all over the world. It's one of the world's largest public outdoor art installations!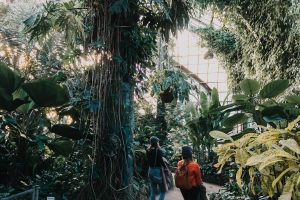 Plenty of nature
Lake Michigan trails along with the Chicago city limits. The Great Lake is so massive, it looks like an ocean! Although it nearly freezes over in winter, you can find Chicago residents swimming and boating on the lake all summer long.  
Bike the Lakefront Trail: Chicago's 18-mile path along Lake Michigan is great for biking, rollerblading, and running. The trail has lots of stops too including Oak Street Beach which was voted best urban beach in America.
If you have a furry friend and are looking for outdoor activities with your dog too, this city has got you covered. There are over 400 acres of parkland available to four-legged residents as well as a pet-friendly beach area called Montrose Dog Beach. The fun is endless.
Conclusion
Chicago is a great city with lots to offer. There are plenty of reasons why you should move here, but if we had to choose one it would be the people. Chicago has so many great qualities, but the kindness and energy of its people are really what makes it special.
Chicago has it all! If you are ready to take the next step and move to Chicago, don't hesitate to reach out. We have been helping people relocate to Chicago for over a decade, and would be happy to get you on your way to your new city!