Chicago Divorce Real Estate
Your crash course in selling and/or buying a home during or after your divorce.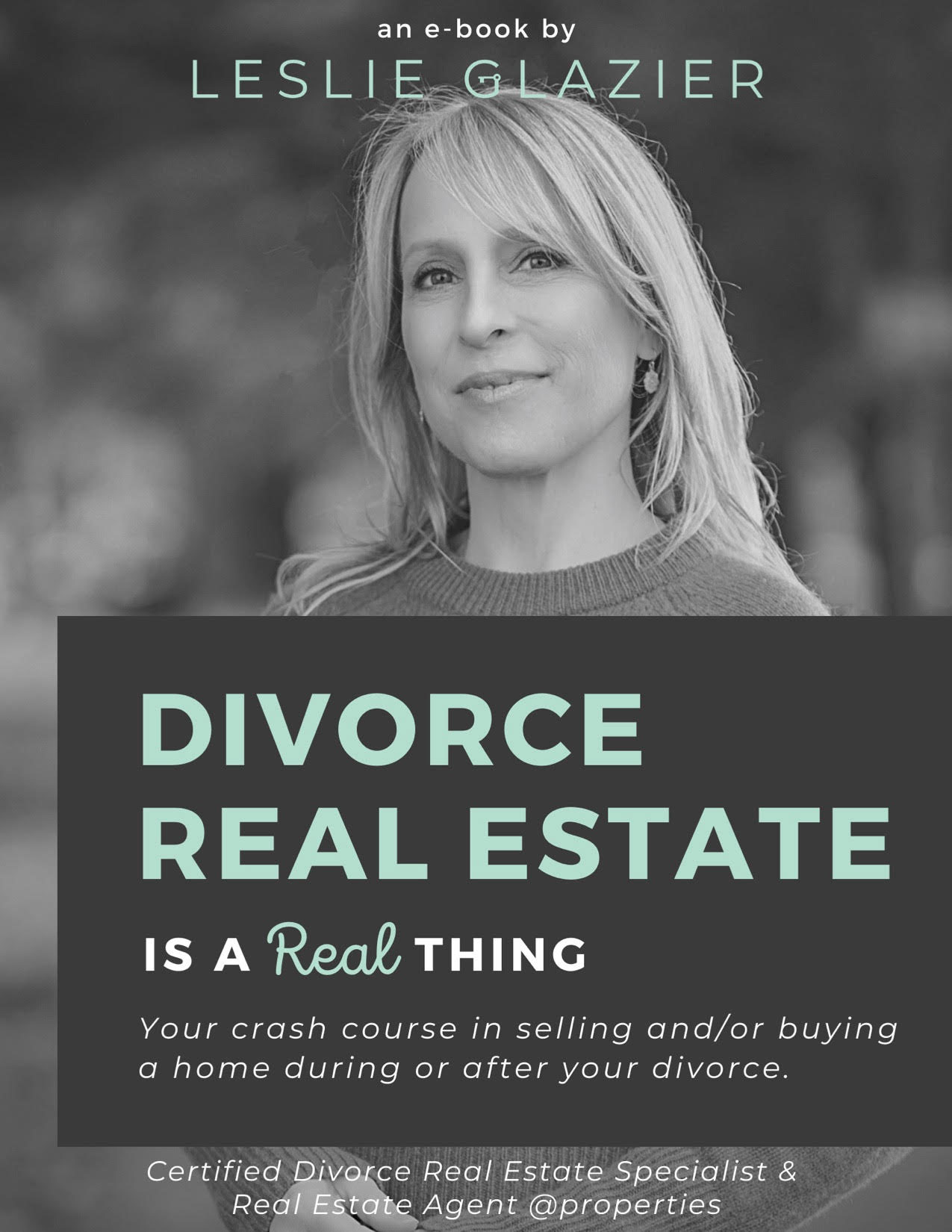 The Complete Free Guide
DIVORCE REAL ESTATE
Leslie Glazier
Divorce Real Estate
Chicago Divorce Worksheet
Getting prepared for whats ahead
Leslie Glazier
Divorce Worksheet
Mortgage Calculator
Estimate your monthly payment and see how much house you can afford.
The House Matters in Divorce
Untangling the Legal, Financial & Emotional Ties Before You Sign On the Dotted Line Kindle Edition
In divorce, deciding what to do with the house can become a huge source of strife, confusion, and even financial ruin. Most are unprepared for the unique legal, financial, and emotional ramifications of either holding on to or selling their house at one of the worst times in their life.
Divorce Real Estate Videos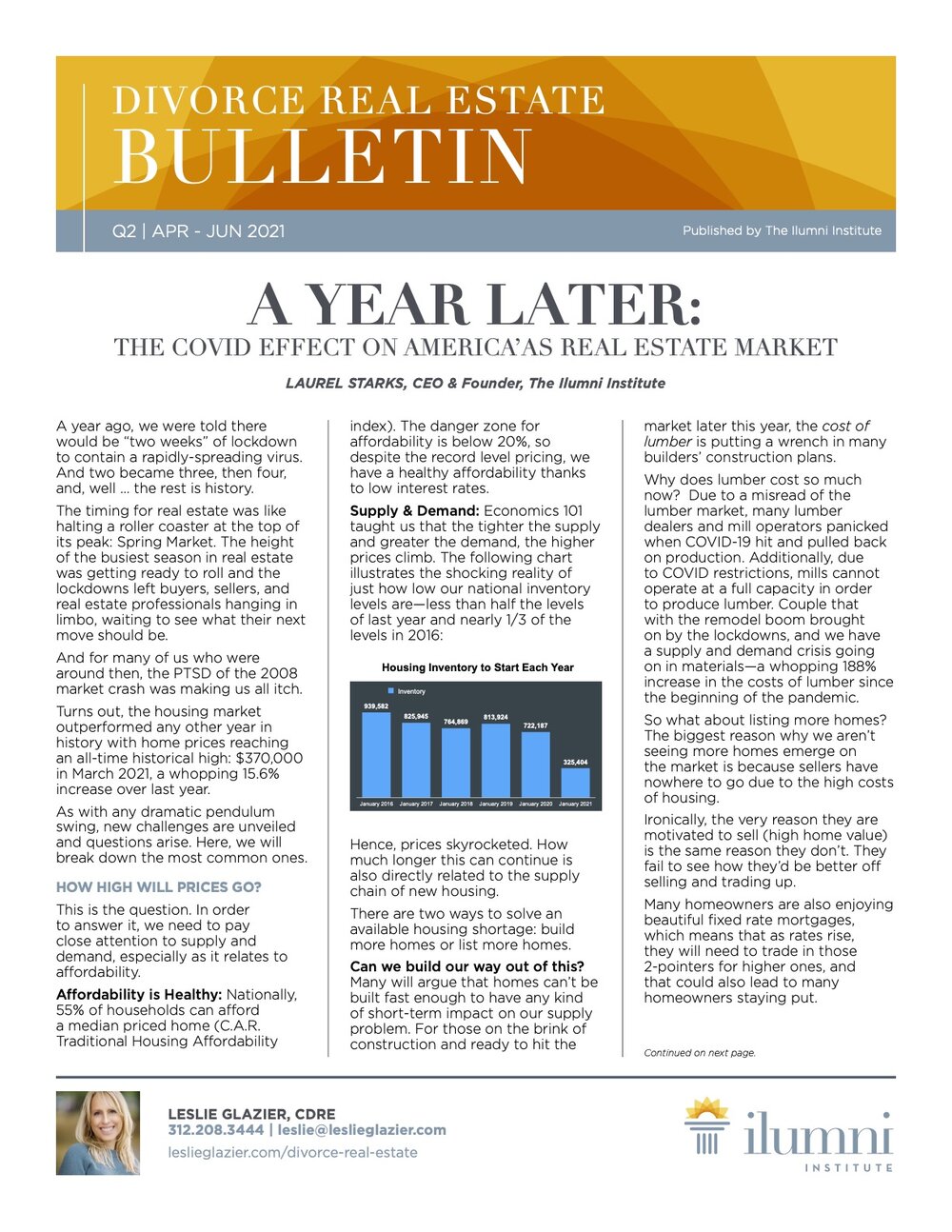 Q2 | APR - JUN 2021
A year ago, we were told there would be "two weeks" of lockdown to contain a rapidly spreading virus. And two became three…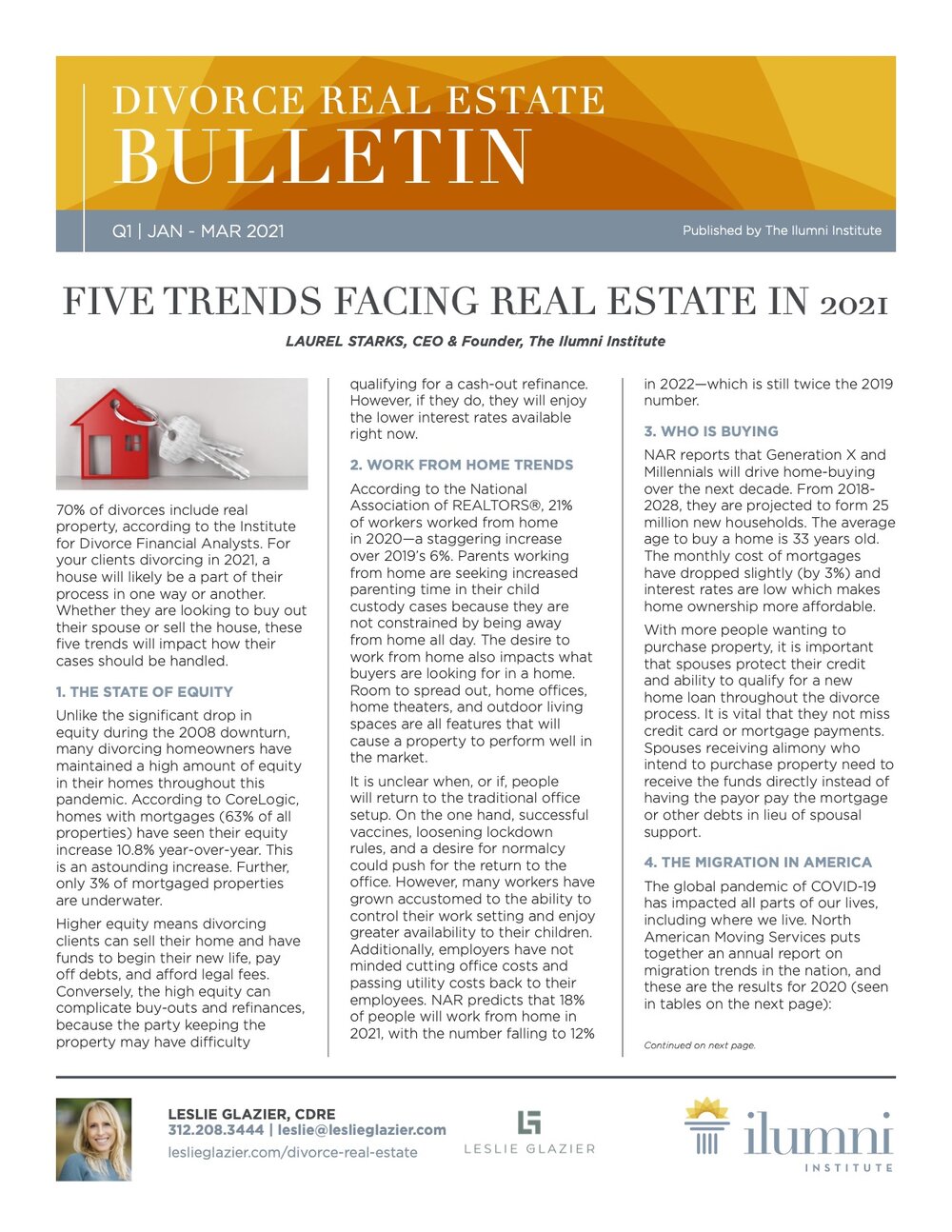 Q1 | JAN - MAR 2021
70% of divorces include real property, according to the Institute for Divorce Financial Analysts. For your clients divorcing in 2021, a house will…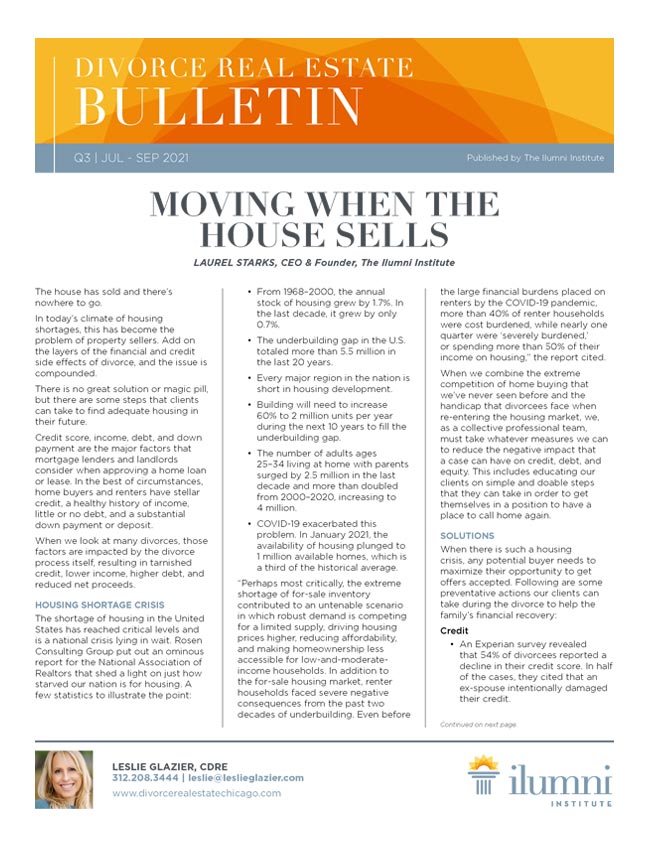 Q3 | JUL - SEPT 2021
In today's climate of housing shortages, this has become the problem of property sellers. Add on the layers...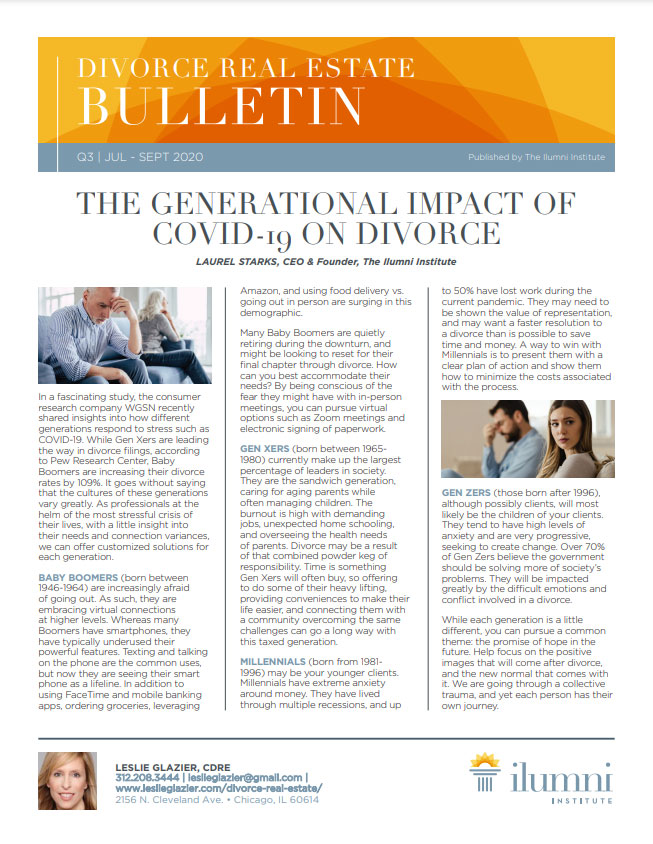 Q3 | JUL - SEPT 2020
A year ago, we were told there would be "two weeks" of lockdown to contain a rapidly spreading virus. And two became three…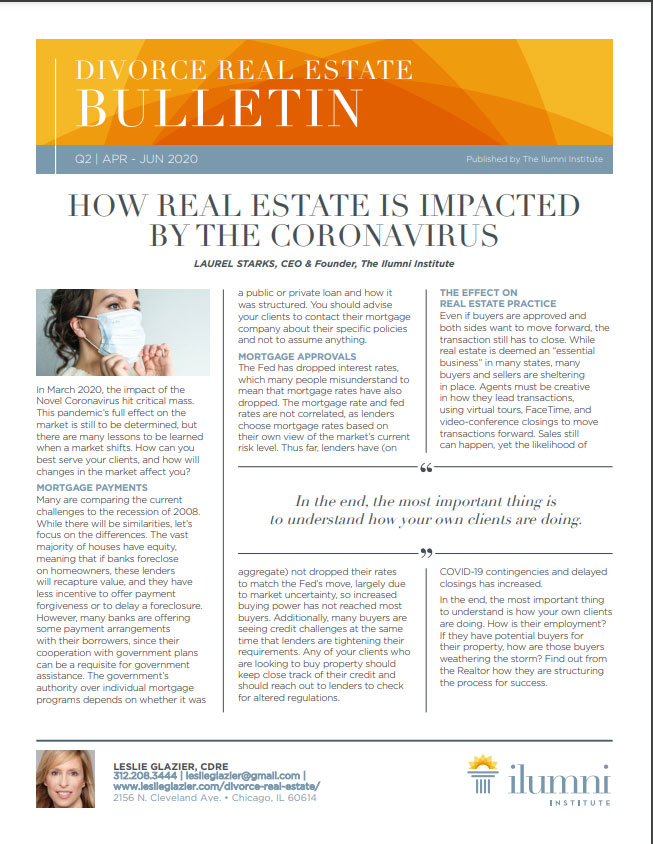 Q2 | APR - JUN 2020
In March 2020, the impact of the Novel Coronavirus hit critical mass. This pandemic's full effect on the market is still to be determined…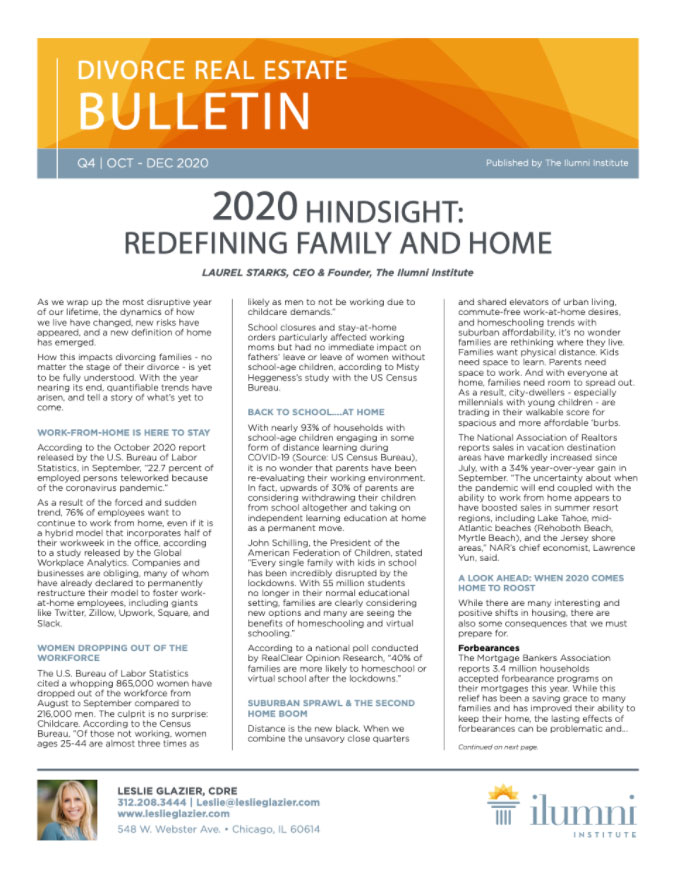 Q4 | OCT - DEC 2020
As we wrap up the most disruptive year of our lifetime, the dynamics of how we live have changed, new risks have appeared…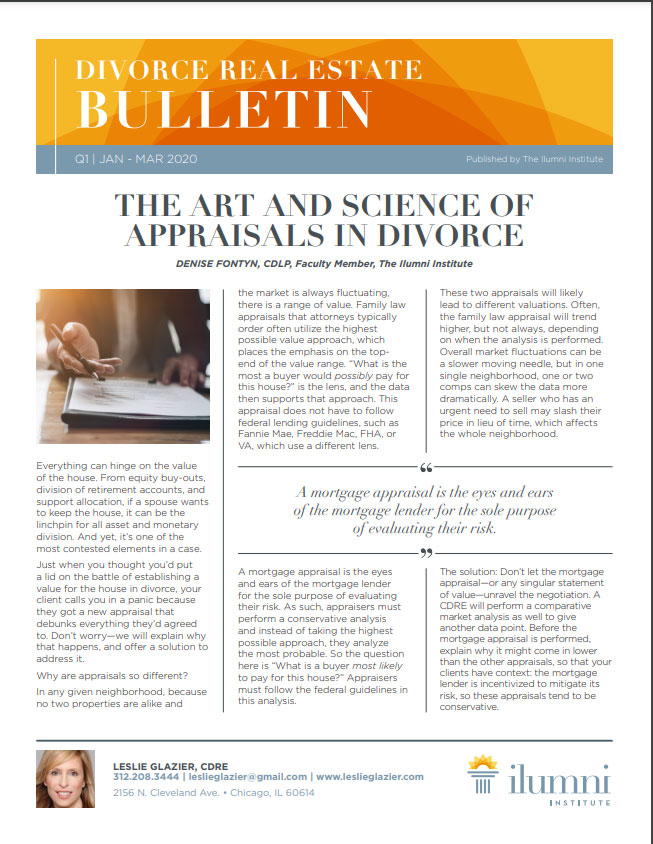 Q1 | JAN - MAR 2020
Everything can hinge on the value of the house. From equity buy-outs, division of retirement accounts, and support allocation…
Divorce itself isn't easy. Dealing with assets during divorce is even more difficult. Clients ofte…
Introduction: When a couple is going through a divorce, one of the most difficult decisions they ma…
When a couple divorces, it's natural for one party to want to stay in the marital home – particu…