Once called the "Candy Capital of the World", Chicago has been home to the National Confectionery Association since 1884. At one point Chicago was home to more than a thousand different candy companies! Sadly, many of the great candy plants that once called Chicago home are no longer around but there are plenty of companies like Mars, Tootsie Roll, and the Ferrara Pan Candy Company to get your candy fix.
Chicago Candy Through The Ages:
1868 – Charles Gunther, a German immigrant, starts a Chicago candy business in 1868. I had never heard of him, but he has been credited with introducing caramel into the United States.

1869 – Gustav Goelitz opens a candy store in Belleville. The company would eventually become JellyBelly.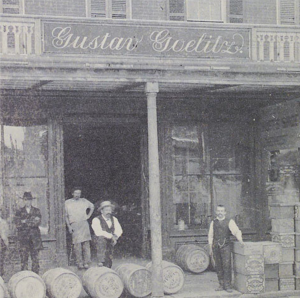 1892 – William Wrigley Jr. begins offering a few sticks of gum with every box of baking powder he sells. It turns out customers liked the gum much better than the baking powder.
1893 – Wholesalers Ruckheim and Eckstein take out a display in the Columbian Exhibition, where candy retailers and other market makers rave about their unique combination of popcorn, peanuts, and molasses – the product that would eventually become known as Cracker Jacks. A short distance down the hall, William Wrigley and his staff were handing out samples of his gum, eventually named "Juicy Fruit." The company introduces Spearmint gum a short time later.
1898 – George DeMet opens a soda shop and candy store on Madison street. The DeMet Company still makes Turtles.
1904 – Emil Brach invests his life's savings of $1,000 in a candy store at the corner of North Avenue and Towne Street in Chicago. He calls it "The Palace of Sweets."
1908 – The Ferrara Pan Candy Company is founded in Chicago. The company makes Jujubees, Red Hots, Boston Baked Beans, and several other candies.
1914 – Wrigley introduces Doublemint gum. It would not introduce another flavor until Freedent and Big Red, in 1975.
1916 – The Curtiss Candy Company, maker of Baby Ruth and Butterfinger, is founded by Otto Schnering. However, as anti-German sentiment in the country was strong at that point, Schering opts to name the company after his wife's maiden name. By the 1930s Curtiss employed 1,900 women and 300 men.
1917 – The start of Prohibition. Schlitz Brewery and other beer and spirits makers could no longer legally sell alcohol. So they transformed their breweries and distilleries into candy factories. With tons of malt on hand and no legal alcoholic beverage application for it, brewers and distillers supply ice cream and malt shops and malted milk balls.
1920 – H. Teller Archibald opens the first Fannie May shop, at 11 La Salle Street. By 1935 he would have four dozen locations in Illinois.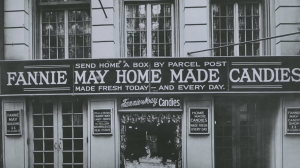 1917-1933. Prohibition changes the culture of a nation.  With bars closed, millions of Americans, in Chicago and elsewhere, flock to candy and malt shops to socialize and enjoy sweets.
1921 – The Brach family builds a $5 million factory on West Kinzie Street. They become one of the largest makers of Candy Corn and Conversation Hearts.
1929 – The Mars Company, makers of Three Musketeers, Snickers, and the Mars Bar, relocates its headquarters from Minnesota to Chicago, where it stays for 30 years. They continue to maintain significant manufacturing here in Chicago and in Burr Ridge.
1939 – The Blommer Chocolate Company is founded. It isn't a household name outside of Chicago. But it's a huge player in the industry as a wholesaler – accounting for almost half of all cocoa processed in North America.
1966 – Sweet Corp. changes its name to Tootsie Roll Industries. The Tootsie Roll becomes a Halloween staple. The company also makes Junior Mints, Sugar Daddy, Dubble Bubble, Cella's Chocolate Covered Cherries, Andes mints, and, of course, Tootsie Pops.
1975 – Wrigley introduces Big Red and Freedent.
1979 – Hubba Bubba, another Wrigley chewing gum product, hits the market
1997 – The National Confectioners Association holds the first All Candy Expo – now called the Sweets & Snacks Expo, with 210 exhibitors, in Chicago. The show would run for 22 consecutive years (it was canceled in 2020 due to Coronavirus concerns, but is scheduled again in 2021.

2008 – Mars buys Wrigley, for $23 billion.
Today, the candy industry's 87 companies in Illinois generate $6 billion in economic output, directly employing 14,349 workers. Together, they pay out almost a billion dollars per year in wages, according to the National Confectioner's Association.
So when you're going through your kids' Trick-or-Treating proceeds, or "browsing" the CVS candy aisle take a moment to reflect how much influence this city has had on candy!